Eating a sweet breakfast as a vegetarian is really easy.
So does eating salad for lunch. You only need to choose the protein carefully.
But the challenge is real when you're preparing for dinner.
Dinner must look like "real meal" and it is usually savory and has rich taste.
Don't worry!
Being vegetarian doesn't mean you cannot enjoy delicious meal.
In fact, there are so many amazing recipes on the internet for vegetarians.
Down below are awesome dinner recipes for vegetarians you can try tonight!
Rosemary fondant potato
From Cooktoria
Creamy curry pasta
From A Seasoned Greeting
Who loves curry?!!
Please tell me I am not the only person in this world who loves slurping on curry liquid. LOL.
This recipe combines the richness of curry with pasta.
You can add more spices if you love spicy food!
Vegan Coconut curry tofu stir-fry
From Plating Pixels
One-pot vegan green lentil dal recipe
From Healthy Happy Mama
Sweet Potato and lentil chickpea curry
From Cook It Real Good
easy ratatouille
From Spend With Pennies
easy vegan chili
From Seven Roses
broccoli and avocado cream soup
From Refresh My Health
Very Green cream soup
From Refresh My Health
Vegan lentil soup
From Nutmeg And Vinegar
penne all'arrabbiata
From Jack Slobodian
Mixed bean chili
From Jack Slobodian
instant pot curry with chickpeas, tomatoes & spinach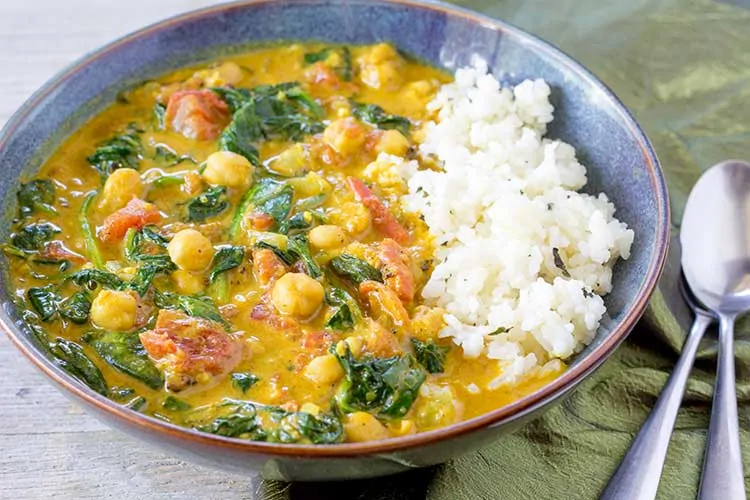 From The Foodie Eats
mexican stuffed peppers with quinoa & black beans
From Moms Who Save
Vegan chickpea skillet dinner
From Son Shine Kitchen
superfood salad with quinoa, chickpea and kale
From Comeback Momma
Is salad for dinner a good idea?
Of course, it is!
Especially when you're on your weight loss journey!
Make sure to avoid high-calorie dressing!
lazy vegan pot pie with sliced potato crust
From My Pure Plants
egg tacos
Need a super simple dinner for busy evening?
You can try this recipe!